The PHRA job postings
The Pennsylvania Horse Racing Association (PHRA) believes in providing equal employment opportunities to men and women of all races, religious beliefs and orientations. 
The PHRA currently does not have any available positions. 
Industry job postings
Mohegan Sun Pocono, Wilkes-Barre, PA
Position: Assistant Racing Secretary
Department: Racing
Credential: No Credential
License: None
Access Code: Z
Reports to: Director of Racing
Job Code: ASTRS
Org Chart pages: 1
Job Duties
Oversees daily operations of the Racing office and assist the Director of Racing by performing
the following duties. Take phone and written entries for various events. Put together Qualifying
Races one to two days per week. Assist Director of Racing in helping horsemen classify their
horses. Put together each racing card. Performs other duties as assigned. Promotes superior guest
service. This is a seasonal full-time hourly position with benefits.
Minimum Qualifications
High school diploma or one to three years related experience and/or training; or equivalent
combination of education and experience. Strong knowledge of harness raining and racing office
procedures preferred. Ability to speak effectively before groups of customers or employees of
organization.
Mohegan Sun Pocono, Wilkes-Barre, PA
Racing Clerk
Hanover Shoe Farm, Hanover, PA
For more information visit: http://www.hanoverpa.com/jobs.html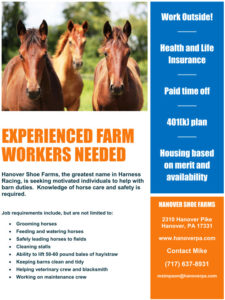 Give your passion a job title
Apply below for the chance to work beside thousands of passionate Pennsylvanians in the horse racing and horse breeding industries. We're always on the lookout for talented individuals across an array of disciplines.